Top 10 Ways Artificial Intelligence Can Help your Business Grow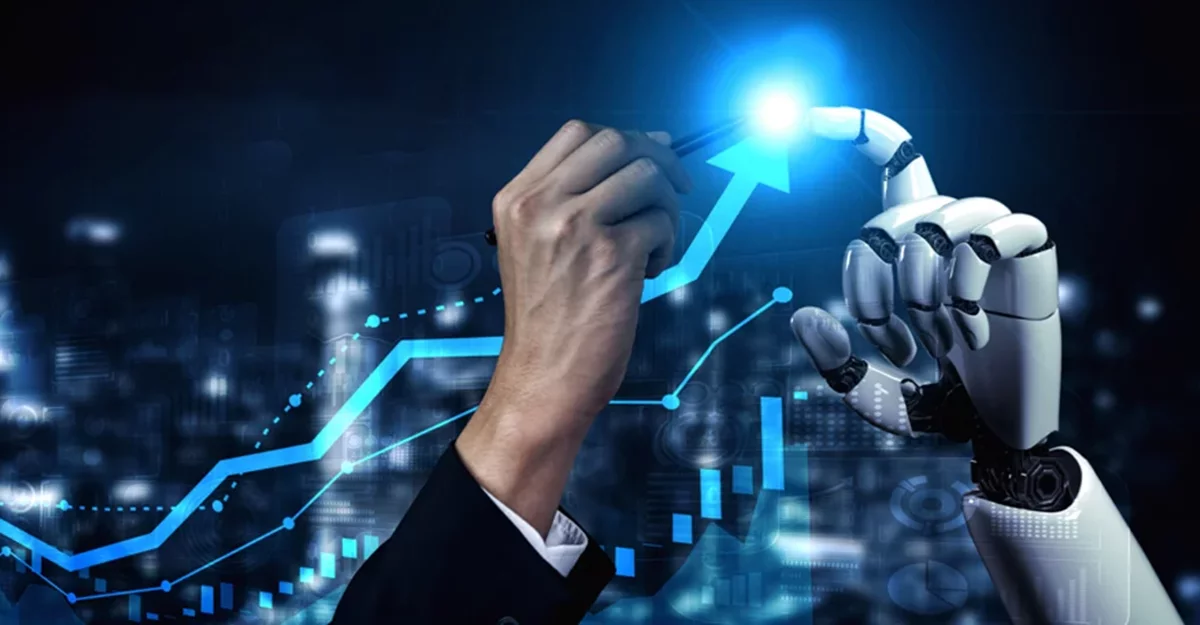 Artificial intelligence refers to a computer's capacity to perform functions that humans normally perform. For instance, the ability to make decisions, interact with users, and so on. To present it another way, AI is the process of teaching machines to think and behave like humans (or even better). In most instances, AI does not substitute for citizens. Rather, it improves human skills and changes how we function.
What is Artificial Intelligence software?
Artificial Intelligence software automates various tasks by using AI technology and special algorithms. Businesses save time and money by automating business procedures, allowing workers to function more efficiently.
To make the business process much easier and more efficient, several AI software tools are used. For example, software that recommends goods to users in an e-commerce store, chatbots, content marketing automation software, sales forecasting tools, and so on. AI is a technology that will undoubtedly change every market, every organization, and every industry. In 2025, the global artificial intelligence market is forecast to be valued at $169,411.8 million. A forward-thinking company requires an understanding of AI as well as an AI strategy. Your AI plan will assist you in achieving your company objectives and gaining significant competitive advantages. In the corporate world, AI has many advantages and applications. It supports customer service, maintains cybersecurity, conducts data analysis, aids in customer care, lowers energy costs, forecasts revenue, and assists companies in being more customer-centric, among other things. Furthermore, "Today, marketing and sales emphasize AI and machine learning more than any other department in enterprises (40 percent)," according to the study.
Artificial intelligence is implemented using artificial intelligence software techniques. Artificial intelligence (AI) is a set of technologies that work together to enable machines to feel, understand, comprehend, and act to assist humans in their daily activities. This technology was first suggested in 1956 at a Dartmouth conference, and since then, there has been a lot of excitement surrounding AI, with predictions that machines will be able to perform human functions within the next 20 years. Unfortunately, funding dried up, and AI entered a period known as "AI winter." However, things have changed drastically since then, with IBM's Watson machine outperforming human competitors in the iconic game show Jeopardy in 2011.
AI engines have graduated from gaming and are now looking for work in the business world. AI engines are now actively participating in important human endeavors. AI is expected to become a revolutionary technology in the next 5 years, with applications in a variety of industries. Let's look at some ways AI can help your company gain a competitive edge, improve performance, and increase sales.
Following are some of the most important ways that AI can be used to improve business outcomes.
Personalized e-commerce experience
According to "Business Insider," by 2020, nearly 85 percent of all consumer transactions will be done without humans. This seems to be entirely feasible, given the efficient handling of phone calls, chats, emails, and social media messages by automated systems that mimic human functions. AI is transforming the face of e-commerce in a variety of ways today. AI recognizes trends and clusters in customer buying activity, previous credit checks, and other common threads quickly. AI would assist in targeting deals to a single customer, providing them with a customized experience by assessing millions of such transactions every day.
According to "Conversica," nearly one-third of marketing leads are not followed up on by salespeople, implying that these pre-qualified potential customers slip through the cracks. This is avoided by using AI to retarget potential customers effectively. Consumers are also affected by various forms of media, as sales processes have progressed beyond time-consuming methods. Businesses can customize solutions and design sales messages that meet consumers just in time by incorporating AI into CRM.
Boost Revenue With Product Recommendations
In product recommendation systems, artificial intelligence is commonly used. These are applications that use advanced data processing techniques to recommend items or information to users. If you shop online, you'll see a lot of product reviews in a day.
Whether on an eCommerce website, in commercials, or emails, a product recommendation helps to simplify buying decisions by assisting consumers in finding items that suit their needs.
Many variables, such as a customer's purchasing history or the actions of similar customers, may influence the recommendation.
Real-time Assistance in Aviation
Major international airlines fail to keep up with logistics and customer engagement, as they deal with millions of customers every day through real-time business and social media interactions. This is where artificial intelligence can come in handy. Intelligent systems and chatbots can be used to communicate with customers to notify and update them on flight schedules via personalized notifications. This would have a positive effect on the brand's overall momentum.
Chatbots For Enhancing Customer Service
A chatbot is a type of software that simulates human conversation (or a chat) with users via websites, mobile apps, and phones, among other platforms. It's a digital assistant with artificial intelligence that interacts with people.
People nowadays expect fast, simple, and personalized customer service at all times and in all places. It's something that chatbots can help with. It's a modern marketing platform that allows brands and consumers to have a real personal experience.
Chatbots are revolutionizing the worlds of business and marketing. They're one of the most exciting developments in the fields of user interface and customer service.
Business Insights from Cloud Databases
The data in massive cloud databases is worthless unless it is extracted and analyzed for patterns and trends. By rapidly and efficiently analyzing billions of data points, artificial intelligence in business aids in the quest for special "gems" contained in these datasets. The best thing is that AI isn't static; it learns and adapts easily.
Create The Best Content Marketing Strategy
Every second, an incalculable amount of people search the internet for goods and services. You must also place the company in front of them. How do you do it? With the aid of successful content marketing!
Content marketing is a marketing strategy that uses useful content to attract, engage, and entertain consumers. Blogs, social media posts, podcasts, videos, infographics, whitepapers, case studies, eBooks, how-to guides, webinars, and email marketing are all examples of content marketing.
Artificial Intelligence's position in content marketing is rapidly expanding. Artificial intelligence analyses the current data and devises the most effective content marketing techniques.
If the research reveals that one form of content is more common than another, you can choose the best option for you. AI will assist you in determining what to write about, which keywords to use, how often to post, and so on. To put it another way, AI will assist you in producing high-quality, high-ranking material.
There's a lot AI can do for your company and marketing, from finding keywords to organizing and producing great content, distributing and optimizing blog posts, and scheduling social sharing.
Incorporating Automation in Business
The growth of AI technology has resulted in job automation, ushering in a new era of industry. From factory robots to automated hotel reservations, the theme remains consistent, except where AI is used. AI is rapidly automating many repetitive business processes, thanks to an increasing trend in the automation of routine work. After all, who wouldn't want technology that eliminates the need for coffee, lunch, and cigarette breaks?
Sentiment Analysis To Gauge Customer's Emotions
Sentiment analysis is an automated method of tracking and analyzing people's feelings and viewpoints in various forms of documents. Conversations on websites, social media, product or service reviews, and so on are examples of text.
Businesses use sentiment analysis to identify consumer opinions and quantify feedback left on millions of websites, reviews, and forums. Businesses can analyze large volumes of data, consider how consumers feel, and combine all forms of social data to uncover consumer desires, intents, and expectations thanks to AI in sentiment analysis.
Powerful Competitive Intelligence
It is now relatively easier than ever to perform competitive intelligence, testing, and study thanks to AI. The process of gathering and analyzing knowledge about your current and future rivals, market, and business climate is known as competitive intelligence. You can practically watch everything your rivals do, from their goods to their people to their promotions. The purpose is to figure out what works for other companies in your industry so you can make the best decisions possible.
You can easily spy, track, and understand what your rivals are doing and what makes them effective by incorporating artificial intelligence into your competitive intelligence efforts.
Chat-based Solutions for Consumer Communications
Several companies have used AI Chatbots to develop chat-based business solutions for customer communications. Clickatell Touch, for example, combines bot-driven interactions and online chat with process automation using Touch-card technology.
Sales Forecasting To Grow Your Business
The method of projecting and estimating future revenues is known as sales forecasting. It's a critical factor in determining long-term market success. Sales forecasts help you to spot potential issues when they are still manageable.
For an instance, if you notice your team is falling 28 percent short of the quota, you can figure out why. Perhaps a very tempting discounting campaign is being run by a rival. Businesses may use accurate sales forecasts to quantify the likelihood of a consumer purchase, forecast short- and long-term results, and allocate resources accordingly. CRM data, transaction history, and data from previous deals are all analyzed by the AI-based program. It examines data elements, including emails, meetings, and phone calls, then uses text mining to determine how they contribute to sales results.
The AI program evaluates the next step of a given customer after analyzing how each data aspect relates to sales results, resulting in an accurate prediction.
Optimize Your Price
Customers are influenced by price when purchasing from businesses, especially retailers. According to Deloitte research, price is crucial. We may live in the age of value, but price still reigns supreme. Price history, brand awareness, competition, quality, season, operational costs, demand, and so on all have an impact on your price. When deciding optimum prices, Artificial Intelligence software can successfully take all of these variables into account. It will assist you in determining the best price for any commodity, at any time of the year and via any channel. You should start by determining the best prices.
Certain rates will entice your customers while still allowing you to make the most money.AI software can sift through a large volume of data, run through a variety of pricing scenarios, and recommend the most appropriate price.
Huge Corporate Investment in AI for Impending Benefits
With vast, low-cost cloud-based data becoming more widely available, low-cost storage becoming more widely available, and algorithms that sift through large amounts of data rapidly, corporations seem to be convinced of AI's potential. According to Accenture's "2016 Technology Vision" survey, 70% of businesses intend to spend substantially more on AI technologies. Furthermore, according to IDC, the demand for cognitive systems applications and content analytics will more than double from US$4.5 billion to US$9.2 billion by 2019.
Smart Cybersecurity
Many credit card companies depend on artificial intelligence to assist financial institutions in preventing billions of dollars in fraud per year. However, financial institutions are not the only responsible ones that should be concerned about cybersecurity. Many industries, including retail, consumer goods, automotive, services, and telecommunications, depend on it. The risk of cyberattacks grows exponentially as digital businesses expand. Identity theft, account takeovers, vindictive ransomware strains, and other threats may all affect a business. Vulnerability management, phishing detection, Network Protection, behavioral analytics, and preventive control are just some of the ways AI software can help with cybersecurity.
Create Delightful In-store Experiences
Despite the increasing popularity of online shopping, physical stores continue to dominate sales. Artificial intelligence has the potential to completely transform the conventional in-store experience and elevate it to the next level with customer-centric personalization.
AI can improve the in-store customer experience in a variety of ways, including instant access to customer service at any time, quick checkout, product assistance, personalized reviews, and assisting customers in making better decisions.
The current and future applications of artificial intelligence in retail are diverse, intriguing, and promising. The in-store experience AI will determine when a customer last visited the store and monitor previous purchases. Using this information, AI will recommend new products that are a good fit for you and provide customized incentives such as discounts, loyalty points, and so on.
AI-powered devices, such as voice-enabled cameras, can read facial expressions. The ability to capture consumers' feelings and reactions aids in the delivery of relevant goods and services.
Save Time And Reduce Costs
According to Forbes, AI could save a Fortune 500 business $4.7 million per year in automation costs. Artificial intelligence enables companies to automate a wide range of operations, freeing up workers' resources and boosting productivity. AI can help you produce more productivity in less time and at a lower cost by automating repetitive tasks. Artificial intelligence (AI) will speed up company processes and reduce mundane tasks, allowing workers to concentrate on more critical tasks. Your most important asset is your people. Artificial intelligence (AI) can help them save time by automating some of their less important and time-consuming tasks.
Uncover Business Insights to Make Smarter Decisions
AI systems can easily extract useful information from large databases, which would otherwise be a difficult and time-consuming task. Businesses will have full consumer data and valuable insights driven out to make informed and timely business decisions by combining their CRM with AI. AI is now used to make business decisions such as 'which clients to concentrate on and 'the best-possible deals.' Furthermore, incorporating AI into the company aids in the identification of the most promising leads and prospects.
Anticipate Outcomes and Streamline Sales Efforts
AI systems are capable of detecting signals that are often overlooked by salespeople searching for similarities in current consumer data. Businesses may use this knowledge to create better customer relationships and minimize turnover, for example, if an AI-integrated customer service tool predicts a customer's view based on their recent contact. Furthermore, rather than waiting for consumers to express their dissatisfaction, a business should take immediate constructive steps to shift consumer expectations as soon as it recognizes that they are dissatisfied. As a result, companies will know what to work on by predicting results, which is a big benefit of AI for small businesses.
Increase Business Efficiency by Minimizing Mundane Tasks
AI systems handle all of the mundane and repetitive activities, freeing up resources to concentrate on tasks that add value to the business. Since SMBs frequently have limited resources, this is a game-changer. Employees will concentrate on activities that shift the company needle by automating tasks like routing new requests and recording notes in CRM. As a result, implementing Artificial Intelligence in small businesses is a game-changing step.
Unlock Unstructured Data for Interpretation
Structured data, which consists of data that can be processed and interpreted, accounts for just 20% of all the data we have access to. The remaining 80% of available data is unstructured, but it can be very useful if it can be used to derive valuable market insights. For example, an energy company preparing to lay a gas pipeline will have a slew of questions about the location, previous construction, past issues, and so on, and the answers will be found in training manuals and old inspection reports stashed away on inaccessible shelves. Businesses may use AI to turn unstructured data into actionable intelligence.
Conclusion
Artificial intelligence isn't just for multinational tech behemoths and industry leaders. Every forward-thinking company that wants to grow and stay ahead of the competition needs AI. What you'll do with AI will be determined by the goals you're trying to achieve. Artificial intelligence has the potential to transform the way you run your company by allowing you to make better decisions faster. The AI landscape will change the terms on which businesses compete. It would be a huge opportunity for forward-thinking companies.