A Beginner's Guide To Roam Research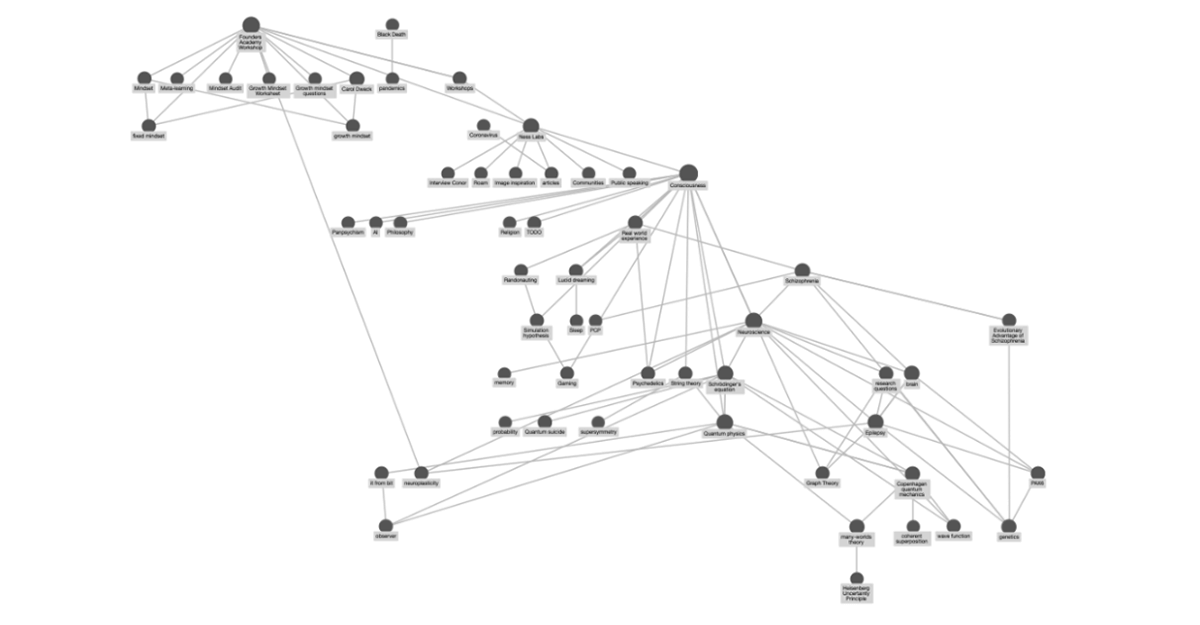 Roam Research is a note-taking and knowledge-management software that is simple to use. It's gotten a lot of press, and the term "game-changer" has been used to describe it. You're probably reading this article because you've heard the buzz and want to know if it's real and if its features are a good match for your requirements.
It appears to be a Workflowy-style online outliner at first glance, but first impressions can be deceiving. There's a lot of power under the hood, including the ability to build a knowledge network that uses links and backlinks to connect your ideas.
It's a versatile tool that can be used for various activities, including note-taking and information management, writing and outlining, journaling, GTD, and analysis. Developers use it to test concepts, build documentation, and track issues.
It gets more useful as you store more in it. It isn't one of my key resources yet, but it has a fair chance of being one in the future. It may become one of yours as well.
It's Getting Hot in Here: Personal Knowledge Management
"Second brain" apps provided fascinating and unique ways of accessing and manipulating the data in the early, wild days of personal computing:
Tabs, outlines, and columns were all used by Ecco Pro. In a relational database, each column represented an area.
InfoCentral helped you link individuals, events, and objects in a way that looked like a diagram. You were able to describe the relationship with each connection specifically.
DayINFO allows you to create ad hoc fields and branches to identify each person or entity. Each object may be found in multiple locations in your information network.
Unfortunately, in the 1990s, they were lobotomized. During the Office Suite Wars, many were bought and then dumbed down or discarded because they didn't cater to the ordinary, non-technical consumer. Since then, promising newcomers have emerged, such as Zoot and InfoQube, but they haven't gained much traction... until now. Roam Study, Obsidian, Craft, and others are gaining loyal fans by introducing appealing new features. The one that is gaining attention is automatic backlinks.
What Is Roam Research and How Does It Work?
Roam Research is an opinionated app written by Conor White-Sullivan to scratch his own itch, like all good apps. It's an online-only outliner with ties and backlinks that's purposefully costly to keep out of the hands of casual users.
It's unique in that it helps you organize the data from the top-down and bottom-up simultaneously. Each page serves as an outliner, allowing you to organize your thoughts as you type, edit, and rethink them.
You can also use the ability to connect separate notes to build a structure from the bottom up as you notice relationships between them over time. This is a fundamental concept of the Zettelkasten system of note-taking and one that Roam was designed to embody.
Niklas Luhmann, a sociologist, developed the technique by using analog index cards to investigate concepts' relationships. It succeeded, and he wrote about 70 books and 400 scholarly papers as a result of it.
It's based on the concept of one-sentence anatomic notes written in your own language. The structure is an afterthought that emerges naturally when you become aware of new connections between your thoughts. You make a backlink to the original note after referencing it in another note.
Key Concepts of Roam Research
Roam Research's key concepts are listed below. Use them as a base if you are thinking of designing your own information system.
Each page is a single-pane outliner made up of hierarchical text and image blocks. This promotes anatomical as well as formal thought. Command + Shift + Up and Down raise and lower blocks. Indentation is modified with Tab and Shift + Tab. The outline is expanded and contracted using Command + Up and Down.
Find: Using the Find function at the top of the page, you can search for all pages that contain a keyword. Like how nvAlt functions, it also helps you build a page with that name if one does not already exist.
Filter: The Filter icon lets you display or hide blocks on a page that contain unique links.
Roam Research questions can be asked using Boolean queries, which are embedded in the outline. Boolean logic operators such as "and," "or," and "not" are provided. Hits that match are dragged into the outline.
Backlinks and links: Backlinks and links enable you to build a networked thinking system or a personal wiki. When you use [[wikilinks]] to connect to another website, a new page is created if it doesn't already exist. Backlinks are created automatically, and the background of each connection is included, providing additional information to the website.
Tags: They are similar to Roam's pages in that each tag is assigned to its own tab. Any page that contains the tag is classified as a backlink, just like pages.
Embed: Roam blocks may be referenced or inserted in other parts of the app. You may also include pages, blogs, images, and other media in your embed code.
Graph: A graph is a digital representation of page relationships. When you click on one page, it turns all the others blue. A page can be opened by double-clicking it.
Markdown is supported but not visible unless you edit a block. Regrettably, it isn't all normal. As double asterisks are used to build **bold** text, __italics__ calls for double underscores rather than single underscores or asterisks. Dynalist did the same thing and was most likely the inspiration for this.
Latex notation: By enclosing Latex code within double dollar symbols, you can add a mathematical notation to Roam.
Roam provides code blocks that provide syntax highlighting. Triple backticks are used to begin a code block, and a single backtick is used for inline code.
Like Notion, Slack, and others, Roam uses a slash menu to provide easy access to features.
Sidebars: Sidebars allow you to access information from other Roam areas without having to leave your current location. Command + / and Command + can be used to display or hide the right and left panes, respectively. To open a connection in the sidebar, hold down the Shift key while clicking.
The First Steps
Signing up for a Roam Research account is the first move. Since it is only available online at this time, there is nothing to download. Sign up for a Professional account to get a 31-day free trial, in which you'll be paid $15 per month or $165 a year if you keep it.
True believers will purchase a five-year license for $500, with discounts available for full-time scholars, those under the age of 22, and those in financial distress. The discount is 50%, according to this Twitter message. It also addresses the possibility of a potential freemium plan.
Daily Notes is the perfect place to keep track of all of your random thoughts and to-do lists during the day. Use it as a catch-all for information that hasn't found a home yet. You'll notice that all dates in Roam are pages that you can connect to. Every day, a new one is created automatically, and you can also create them manually in advance using the date picker.
The first link in the navigation sidebar will take you to your regular notes. There are also buttons for viewing a graph or a list of all your notes. There are also shortcuts to any notes you want to use quickly. By clicking the star icon in the top right corner of the page, you can add any note to your shortcuts.
Pick TODO from the slash menu to add checklists to your notes. This must be done for each line; the next item's checkbox will not be applied automatically.
A to-do item's markup is simply a connection to the TODO list. Any unchecked to-do item in your graph has a backlink at the bottom of that list. When you check a box, the markup becomes a path to the DONE list, where all completed to-dos will appear as backlinks. Attach your TO-DO list to your shortcuts if you think you'll use it often.
Another place to see what Roam Research has to offer is the aid database. This is a public Roam graph that everyone can view, even if they haven't built a Roam account. Its content will tell you everything you need to know about Roam, and the thorough changelog will show you how actively it's being created.
Creating a Network of Expertise
Begin to use Roam on purpose and watch your graph grow naturally. It will become more important the more you use it.
It can be used for several things. Make a lot of links to other websites. Experiment with it. Don't stress about doing everything exactly right; you can always rename and reorganize as the information network expands.
Begin by deciding on one or two use cases. You may use regular notes to keep track of what you want to do each day and checklists to keep track of all your open to-do items on the TODO tab. Build separate task pages for each of your projects as an alternative.
Some users bring task management to the next level, using it for GTD, bullet journaling, and more (just look at the videos on YouTube). Roam42's SmartBlocks can be used in conjunction with Todoist, and Asana's My Tasks can be repeated.
Use your regular notes to keep track of what happened during the day, including what you achieved and any noteworthy events. Make a list of any random thoughts, new ideas, or inspiring quotes you come across. If you use the date picker to refer to the date on another website, it will be referenced in the backlinks of that date's page.
Roam can be used to keep track of and create reference material for your projects and interests. Make the page as short as possible, and add similar information to linked pages. Roam is transformed from a series of separate notes into a network of thinking thanks to the use of links.
You can use a Roam-native book to publish your work (rBook). Two of them are already available from Roam Books, and you can learn more about them in this YouTube interview. Alternatively, use digital-gardeners, gatsby-digital-garden, or roam-export to create a digital garden. Roam Garden is a self-hosted choice.
Roam is also great contact management and customer service tool. When you visit a person's website, you'll see all of their other pages. This may include meetings you've had with them, tasks you've given, bugs they've found, or projects you've completed for them. Because of Roam's backlinks functionality, you'll find all of the information you need right where you expect it.
During the 30-day trial, don't be afraid to add info. Roam helps you to export all of your data in one go, either as a series of Markdown files or as a single JSON or EDN file.
Roam Research is also in its infancy.
There are no web applications, smartphone applications, or APIs. There's no local storage (unless you're a $500 believer) and no versioning. Still, automated backups are now available in Chrome or via the Roam2 Github script, and confidential notes can now be encrypted in location. It has a steep learning curve, is costly, and there is currently no freemium plan available.
However, it has a promising future. I've spoken with several users who believe that the current price is a good investment because it suits their needs better than any other choice.
It's both strong and easy to use, and the combination of outlining, linking, and embedding allows it to handle a wide range of tasks. It's still in the early stages of production, and some features are still missing.