The Benefits of Remote Work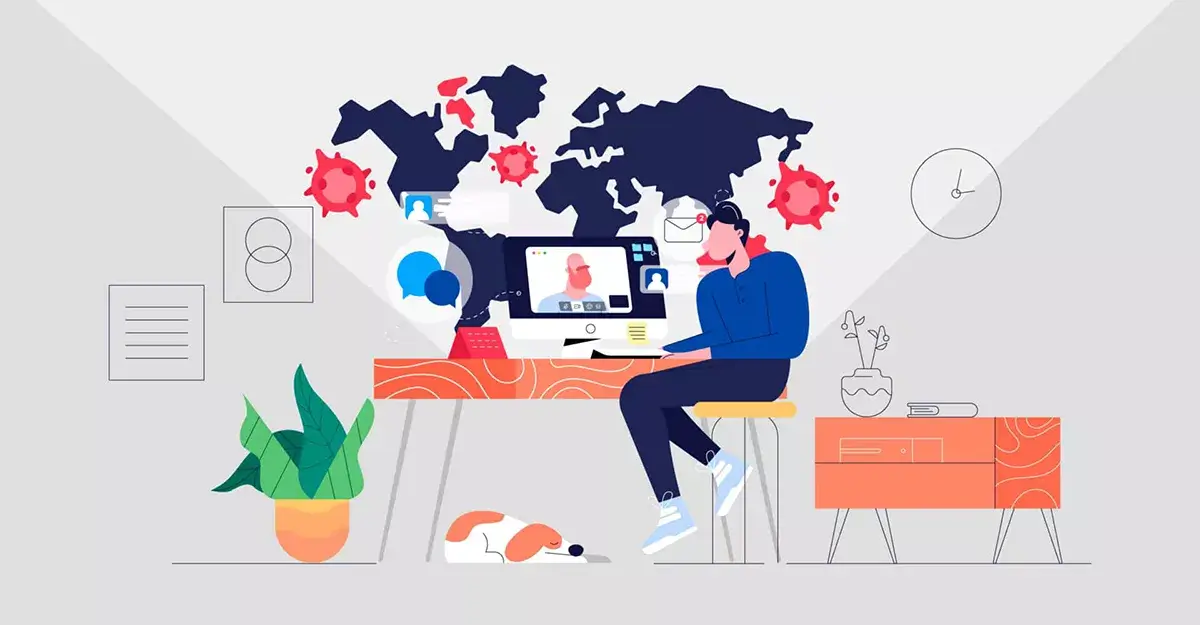 Is the trend these days working from home?
The remote staff has had a poor image in the past. Many employers believed that their employees would be too easily distracted at home, where their managers couldn't monitor their direct reports.
A decade ago, remote work was highly uncommon. Working from home was normally only accessible on a case-by-case basis to meet the needs of individual families. On the other hand, teleconferencing and telework technology has progressed to the point where some businesses can now operate with completely remote teams. It's not unusual for companies to allow their employees to work from home once or twice a week.
The Covid-19 pandemic triggered a historic change in the global job market in 2020. Though working from home used to be a luxury offered by some firms, it has now become the standard for most. 70% of the workforce will be operating remotely at least five days a month by 2025, according to estimates. Although 2020 may be regarded as the year of remote work, we believe it is only the beginning, as the trend is expected to continue in 2021.
Is it possible to work from home?
Many companies would have balked at the prospect of workers working from home on a daily basis a decade ago. The lack of productivity was a big problem for most workers when it came to working remotely. How effective and successful will an employee be if coworkers and managers aren't constantly monitoring them?
Airtasker surveyed 1,004 full-time workers – 505 of whom were remote employees – across the United States about their work practices and productivity to understand the effectiveness of remote work better. The findings show that remote employees are more effective than their colleagues in the workplace. The following are the findings of the research:
Remote workers work an extra 1.4 days a month than in-office workers, for a total of about 17 extra workdays a year.
Remote workers take longer breaks on average than office workers (18 minutes vs. 22 minutes), but they still work an extra 10 minutes a day.
Office employees are unproductive for an average of 37 minutes a day, not including lunch or breaks, while remote workers are only unproductive for 27 minutes a day.
Remote workers said their employer distracted them from their jobs 15% of the time, compared to 22% of office workers who said the same thing.
Although these figures may convince both employees and employers to adopt a work-from-home policy, remote workers have reported higher stress levels and trouble striking a work-life balance than office workers. However, remote work will improve employee satisfaction when done correctly; according to the American Psychological Association,
Working remotely is successful in the end, but it must be done efficiently, and it might not be the ideal situation for every employee or company.
How has remote work changed over time?
There used to be a time when remote work, as we know it, did not exist due to technical limitations. If your coworkers or business associates tried to reach you when you were away from the office, they couldn't do so by email, text, or direct message. To have a work-related discussion, you would have needed to have an alternate phone number, a pager, or even a fax number. Then full-time "remote" workers were not the same as they are now.
"Ten years ago, remote jobs meant a low-wage telemarketing or customer service job," Samantha Lambert, director of human resources at website design firm Blue Fountain Media, explained. "It was almost never linked to a full-time job. Now, no matter where we stand in the world, technology helps us to accomplish the same mission. It has given us the freedom to communicate with colleagues and clients at any time."
Video conferencing is one of the most useful tools for achieving seamless remote work. Out-of-office employees can see and talk to one another in real time from anywhere with an internet connection, which is another best thing to meeting face to face. However, without the widespread acceptance of broadband internet over the last 10 to 15 years, this capability would not be feasible.
Because of the fastest development of technology, many companies have discarded conventional offices and now operate out of coworking spaces to accommodate their largely remote employees.
"Shared office spaces, where remote workers can gather to work," Lambert said, "have been developed and are becoming more commonly accessible in various cities." "This, in and of itself, reflects the rise in the number of remote employees in recent years."
In the era of a crisis, such as a natural catastrophe or an outbreak, remote work offers unique opportunities. For example, when COVID-19, also known as the coronavirus, spreads rapidly across the world, the opportunity for many employees to work entirely from home will help protect both public health and the company's long-term success.
Working from home becomes a permanent option.
Enterprise Technology Research conducted research that stated that the number of staff who work from home permanently is expected to double by 2021. (ETR). According to Erik Bradley, ETR's chief interaction strategist, "the productivity metric proves that remote work works." "So, we all expected some rise in permanent remote jobs, but we didn't expect it to double from pre-pandemic levels," says one participant. According to a new Gartner CFO survey, more than two-thirds of CFOs (74%) expect to permanently move workers to remote work once the Covid-19 crisis is resolved. Big Tech companies, as predicted, are leading the way. Employees at San Francisco-based Twitter were told in May that they could work from home indefinitely. Around the same time, Square, which Twitter's Jack Dorsey also heads, introduced a similar strategy, allowing workers to operate from home indefinitely, even after offices reopen. In late May, Facebook CEO Mark Zuckerberg told workers that many of them would be able to operate remotely indefinitely, with the company planning to do so until 2020.
Working from home needs less office space.
According to Moe Vela, Chief Transparency Officer of TransparentBusiness, the need for large physical office spaces would eventually fade away. "Completely remote companies with no headquarters can continue to form as other organizations minimize or eliminate office space for hybrid teams to save money," Vela adds. And businesses are already moving in that direction. REI, the outdoor retailer, revealed earlier this summer that it would sell its brand new, unused 8-acre corporate campus in Bellevue, Washington. CEO Eric Artz said that the organization would "lean into remote working as an engrained, funded, and normalized model" for employees in a statement. Many businesses are now considering combining remote and on-site jobs, resulting in a hybrid work model. "One tactic could be to have particular days for in-person meetings and collaboration, and then other days reserved for remote work," suggests Anna Convery-Pelletier, CMO at Radware. In-person meetings could be used for brainstorming, proposing new ideas, or team-building activities, while remote days could be used for work that can be done alone. By eliminating cubicles and introducing more collaborative working rooms, the office could be renovated and reorganized."
Remote work necessitates a higher degree of dedication.
A good mindset and strong relationships open the doors to promotion in the workplace. Working remotely has the downside of making it more difficult to highlight professional accomplishments. Employees will need to put in extra effort in 2021 to improve their virtual participation in order to have access to new opportunities. Employee engagement is much more difficult to convey and define in a remote setting where employees interact mainly via email. Employees who work from home will stand out as leaders by attending virtual gatherings, engaging in online meetings, and maintaining a high enthusiasm level.
Quality monitoring is affected by remote jobs.
Quality management has changed dramatically as a result of remote work. Organizations can eventually place a premium on results rather than hours worked, necessitating the use of software and apps to monitor remote employee output. Employers would need insight into what employees are doing in order to optimize employee productivity. Time Doctor, Timely, and TransparentBusiness are some examples of remote employee management tools. To oversee development and coordination while maintaining operational efficiencies, it may be appropriate to establish a new job role, such as Director of Remote Work. Quality assessments are now performed on a daily basis rather than once a year in some businesses. As managers aim to assist workers in navigating their job duties and meeting success goals, continuous input will become increasingly important. In the new standard, rethinking goal-setting and defining important success indicators will be crucial to managing remote staff.
Remote work necessitates the use of cybersecurity.
In 2021, as more businesses encourage a majority of their employees to operate from their homes, cybersecurity is seen to be a major concern. According to Cisco's Future of Secure Remote Work Survey, 85 percent of respondents believe cybersecurity is as relatable as it was before the pandemic. A significant source of concern is how data is accessed and how to protect it efficiently. Organizations must think more strategically about the cybersecurity issues and how to best protect personnel, data, and equipment, according to Jack Mannino, CEO of security firm nVisium. "Many companies have made substantial new investments in their IT processes and infrastructure as a result of the move to remote work," Mannino said. "While many people have already experienced and made the move, the security debt that has been generated as a result of the process has not been addressed in many ways. Securing a remote workforce necessitates a new mindset and creates a larger attack surface."
The Covid-19 pandemic has demonstrated that we can function from home and be efficient at the same time. Also, with their workers working remotely, 94 percent of employers said efficiency was the same as or higher than before the pandemic, according to a survey by Mercer, an HR and organizational benefits consulting company.
The state of remote work today
Teleworking has become a common occurrence in many workplaces, both in the United States and around the world, due to advancements in information technologies and internet connectivity. This form of work isn't often done from home; some remote employees visit coffee shops or coworking spaces, and some even travel the globe while pursuing their professional goals.
"Today's workforce is increasingly mobile, interactive, and diverse, and it's made up of multiple generations, each with their own contact preferences," said Stacey Epstein, Zinc's CEO. "These jobs come from a variety of industries... each with their own set of challenges when it comes to staying connected on the job."
Many firms, however, have opposed this job pattern for several reasons. Some company owners may be worried about employee efficiency, while others may not have invested in teleconferencing and telework technologies to help remote staff. Many other companies have dabbled in the remote workforce by instituting a work-from-home strategy for one or two days per week, or as an exception for a select few workers.
According to a Buffer survey on remote jobs, 75% of remote employees said their employers don't cover internet expenses, and 71% said their employers don't pay for coworking spaces. These figures are a bit better than those from the previous year when 78 percent of businesses did not cover internet costs, and 76% did not pay for coworking spaces. Although workers' willingness and expectation of operating remotely rises year after year, businesses are only slowly implementing remote-friendly policies.
Adopting a remote working strategy, on the other hand, will save businesses money by eliminating the need for costly office space (or satellite offices) while giving employees the right to set their own schedules and work from wherever they choose. It has the potential to be a win-win scenario.
Future of Remote Work
Fast Company forecasts that remote work apps, such as mobile work tools and virtual reality conferencing, would replace face-to-face meetings as the primary communication mode. AI would almost definitely play a significant role in handling remote employees.
Companies can feel more at ease as a result of these advancements. The move to managing a remote workforce can be difficult, but it can be a breeze with the right technology and dedicated staff.
Fighting change can do more harm than good in the long run. Many workers now hope to be able to operate from home. According to Buffer, 99 percent of working remote employees choose to work remotely for the remainder of their lives, at least most of the time. This is nine points higher than the previous year's figure from the same study.
Furthermore, according to Global Workplace Analytics, 37 percent of remote workers will take a 10% pay cut to continue working from home. Because of this growing trend, some people refuse to accept onsite work because they know they can find a more comfortable and flexible job elsewhere.
Organizations should strengthen their remote work strategies and skills rather than fighting reform. Lambert suggests developing common key performance measures (KPIs) for both management and staff if the company is worried about efficiency and performance problems as a result of a companywide ability to work from home. She believes that remote team members are aware of goals this way, and their progress can be tracked.
Tags: