Digital Transformation is The Adoption Of Digital Technology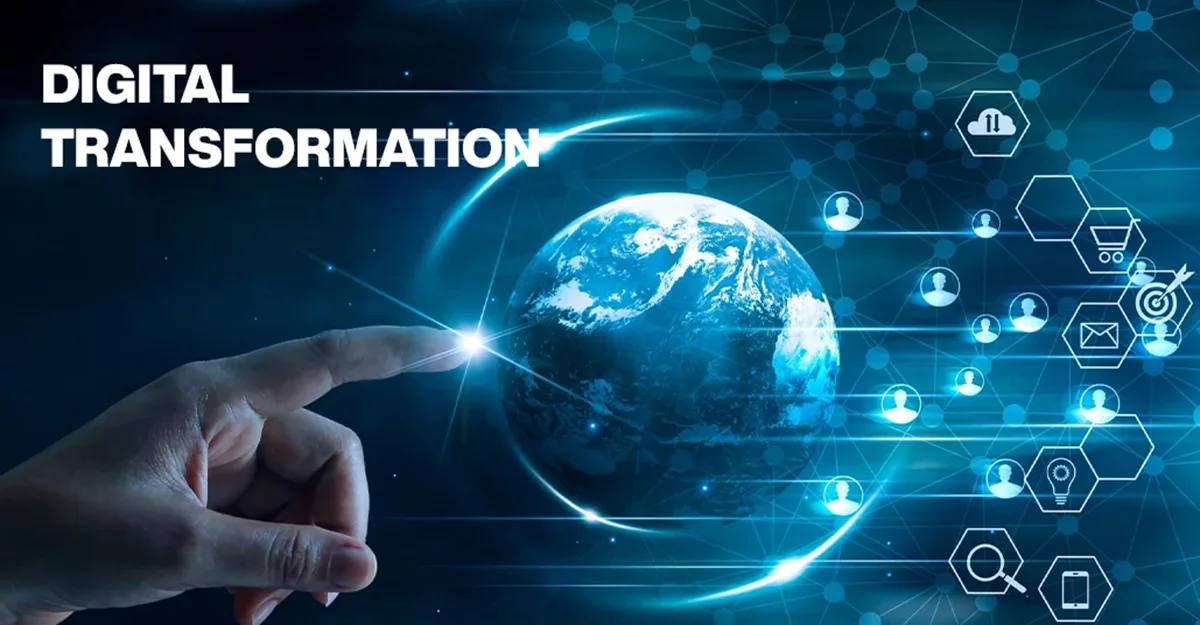 How has digital transformation changed the world?
In all sectors, digital transformation creates enormous opportunities for innovation, and there is a total re-engineering of products, services, and customer experiences on the market. Media networks, other mobile-related technologies, and all of these advances disrupt markets and forever alter how we communicate, interact, and learn. Institutions will have to transform into virtual companies and rethink all of their activities to be competitive in the digital age.
Most have already decided to invest in these growth assets, beginning with streamlining and automating processes and funding in artificial intelligence and machine learning. Some people are concerned that modern technologies and social order are rising faster than business organizations can keep up with. This fear of adapting or dying ushers in a new age of corporate culture and new business models.
In the past, technological revolutions were normally accompanied by a bang. That is no longer the case, as industry quietly changes systems and processes to include more sophisticated technologies. With industry disruptions and social advancements, however, the results are always dramatic.
Manufacturing and retail are both undergoing digital transformations.
Manufacturers today have more simplified and effective processes without compromising quality, thanks to the availability of digital resources and automation.
Automobile manufacturers are excellent examples in this regard. Their manufacturing plants fabricate parts with meticulous details and measurements – a method made possible by using machines and computers, which can be achieved reliably and with fewer errors.
Another industry that is undergoing rapid digital transformation is retail. For example, through a series of changes, Amazon and Whole Foods' recent merger provides customers with simpler and faster access to goods. Their online shopping portals now have whole parts dedicated to different products.
Interactive and/or interactive displays are being introduced to retail spaces, offering consumers new opportunities to try products out before making a purchase. Recently, Amazon opened the first Amazon Go shop, which uses a 'check-out free' system in which customers simply get what they need, and sensors installed in the goods signal the system to charge their accounts when they leave.
Transportation is undergoing a digital transformation.
Uber is the epitome of effective digital transformation in the transportation sector. The underlying idea is hailing a bus; however, passengers may obtain transportation services more conveniently, quicker, and cost-effectively.
The transformation, of course, did not end there. Some companies are working to make large-scale formats such as shuttles and car-sharing available, which could be considered the transportation industry's Airbnb.
Entertainment and media are undergoing a digital transformation.
According to Forbes, the film industry is becoming a testbed for retailers' digital content. Companies that usually market consumer packaged goods, for example, are branching out into original content and "actually making edgy original episodes."
PepsiCo is on the cutting edge of this new frontier, attempting to create a stronger presence in the era of Netflix, YouTube, and other new streaming video platforms.
The fast-food behemoth also built its own huge studio capable of real-time broadcasting content around the world.
Logistics and Supply Chains are undergoing a digital transformation.
In terms of logistics, 'blockchain' technology is changing the entire supply chain from suppliers to customers. According to Fortune, the world's largest shipping firm, Maersk, recently conducted a test to track its cargo using blockchain.
The most significant takeaway here is that each container was monitored remotely via digital connections secured with cryptographic signatures.
Employees, too, are embracing digitalization, especially when it comes to cargo delivery vehicles. The United States has required fleet operators to use electronic logging devices since last year, which Fleetmatics defined as devices that are primarily used to monitor hours of operation.
They have until the end of the year to comply. As a result, truckers now have a digital tool for tracking and receiving data, enabling them to save time and money on paperwork.
Finance and banking are undergoing a digital transformation.
The finance and banking industries were among the first to embrace mobile technology. Account-holders also have the ability to conduct transactions using mobile devices thanks to 'digital finance.'
Many financial institutions are welcoming the shift from conventional to digital accounts, which benefits emerging economies greatly. Mobility is also used in other procedures such as loan applications, tax collection, and fund distribution.
Medicine and healthcare are experiencing a digital revolution.
Automated appliances and smartphones are taking over healthcare. Dr. GSK Velu, a contributor to the Economic Times' Healthworld, has gone so far as to suggest that human beings have become "digitized."
And when the physician and the patient are not in the same place, vital signs and other medical details can now be tracked. Surgery can also be done with the surgeon on the other side of the planet from the operating table.
Political Digital Transformation
A variety of government applications and procedures are now being digitized. In certain instances, such procedures are now carried out online. And, according to Forbes, countries like the United States are deploying AI support in unique tasks to develop those capabilities.
Chatbots support help desks and contact centers, and sophisticated cybertechnologies are used for both sustainability and national security.
Despite this, the US Bureau of Labor Statistics predicts that government employment losses would be small in the near future since the majority of personnel would be diverted to more public-centric programs. It's a win-win situation for the government as well as the people.
Everywhere, digital transformation is taking place.
It is undeniable that data drives the planet, and there will be further changes in the future. Smart cities and connected cars will be completely realized as data collection, flow, and management are improved further. Consumers can also start to benefit from the data they post online, according to futurists. It's called "the new oil."
And, as the importance of data has increased, so has the amount of data. Disparate data sources are only one of the headaches for data professionals when it comes to handling all of this data. That's why we devote a large portion of our blog to best practices in managing Any2 – any info, anywhere.
The world has modernized as a result of digital transformation.
The consequences of the first uprising cannot be overstated. It has shifted entire towns. Even before Industrialization, it is estimated that 98 percent of European settlers lived in rural areas, working on farms. Half of the population in England was living in towns and employed in factories by the middle of the 1800s, just 50 years after the start of Industrialization.
The invention of electric power, which occurred during the second civil war, led to mass production, making vehicles affordable to the middle and lower classes. Students are no longer limited to overcrowded industrial areas or departments. People started to walk to work, and suburban areas developed as a result. The personal computer and the internet have once again changed our way of life and work.
Today's situation has changed once again. That has changed due to technological advancements. If organizations want to succeed, they must reshape themselves. The consumer's trajectory has fundamentally changed in many cases. We're frequently 'on' as we enter the fourth industrial revolution. Every time we've been linked, our expectations have risen. This so-called "digital generation" is the product of technological advancements and a variety of significant socio-cultural shifts.
The emergence of the so-called "me-centered culture" is one of them. Communication habits and how we interact with corporations have been recovered based on personal desires, beliefs, and needs, as demonstrated by an increased emphasis on individuals and a decline in society.
As a result, customer loyalty and usability have become the main differentiators between victory and loss. We have many outlets to listen to, whether it's Twitter, Facebook, Instagram, Snapchat, or even a personal blog. The company held power in the age of the market public. The client is to blame for the issues. They have far more variety of options than ever before, as well as the power to alter or destroy a brand's public image. If done correctly, this move will open up a lot of doors for companies willing to make major changes.
Conclusion
Except for consumers, most companies are attempting to keep up with the rate of transition. Technology has dramatically altered the competitive environment in many situations, but business owners lack the skills or expertise to understand how to adapt in order to remain competitive. They still don't invest in human resources for the new electronic workforce and training and support for existing workers.