How Does the LinkedIn Algorithm Work in 2023?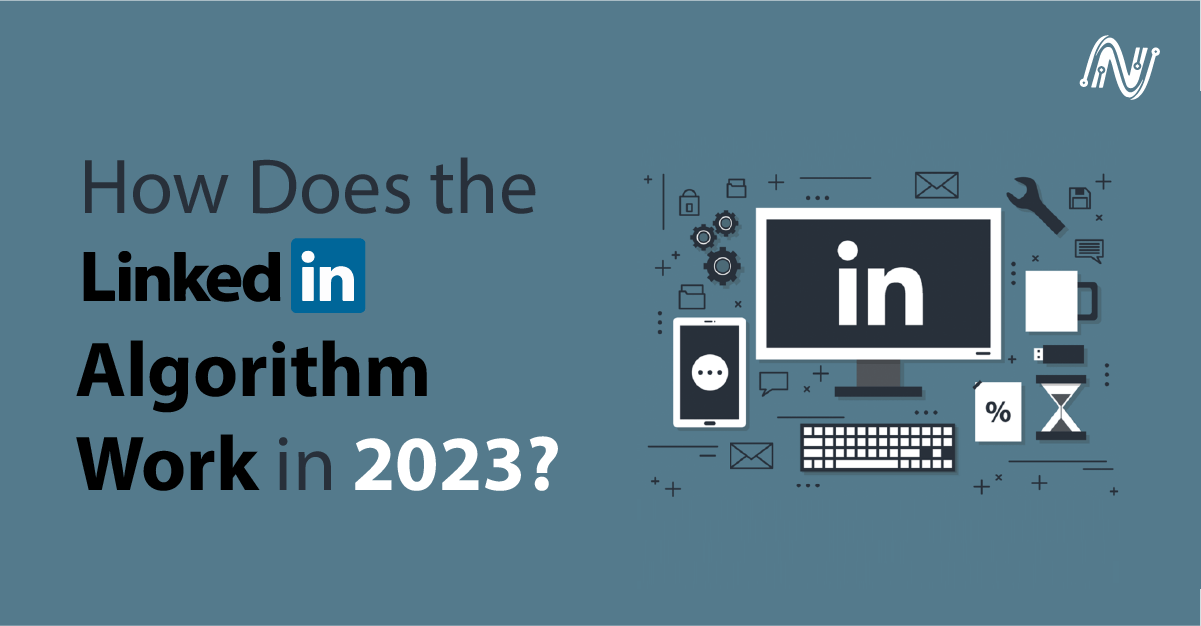 LinkedIn is the best platform for reaching the right audience to show your content, but to maximize your exposure you need to understand how the LinkedIn algorithm functions. LinkedIn evaluates a wide range of variables to determine how relevant your material will be to your audience and assigns it a ranking. It then distributes your content to a portion of your audience and checks to see if they are responding. Then it determines whether to push it to more people and carry out more testing or to discontinue displaying it in the feed based on the results of that initial test.
How LinkedIn Algorithm Treats Your Post
LinkedIn places the content you upload in one of three categories.
Spam

Low quality content

High quality content
You can easily refer to the spam category if:
Use bad grammar

Don't use multiple links

Don't tag more than 5 people

Don't use hashtags like "follow," "comment," or "like."
The tough aspect is figuring out what is high quality and what is low quality. Here are some factors to keep in mind.
Only tag people who will respond.

Use around three hashtags, the first of which should be wide, the second specific, and the third extremely specific (#webdevelopment, #javascript, #Vuejs)

Structure your post to make it easily readable.

Focus on posting questions as it is an easy way to encourage response.

Don't use outbound links.

Use strong keywords.
Golden Hour
It is the first hour after you share the post on LinkedIn, and it plays a vital role in your post's success. LinkedIn evaluates the initial engagement to see whether it deserves to move into other people's feeds. Your content is far more likely to do well throughout the day, week, or month if it performs well in the first hour. If no one reads your post or responds to it during the first hour, then that post may not get engagement.
You should post when your audience is active and ask questions to engage them. When someone interacts you should actively respond to them. Not only post and forget also get engaged with your audience. Try not to edit your post it will weak the reach.
Ranking signals
LinkedIn has three ranking signals to determine what you see in your feed.
Personal connections
LinkedIn consider who you work with and whom you have interacted with before to determine which post is directly relevant to you.
Interest
LinkedIn evaluates your interests which groups you have followed and which hashtags you have used. LinkedIn will also determine the language of the post and the companies, people, and topics mentioned in it.
Engagement
The algorithm assesses how likely you will share, comment, or respond to a post. The model also considers prompt responses to content authors. You'll appear more frequently in other people's feeds the more frequently you engage with individuals on a daily basis.
Which Types of Posts does the LinkedIn Algorithm Want to See
Let's start by examining the fundamentals of a successful LinkedIn content strategy. Following are the kinds of postings that often generate engagement and adhere to the platform's best practices.
Question-based posts
Anybody wishing to expand their LinkedIn network should focus on posting questions. After all, questions act as a call-and-response to stimulate dialogue among your audience. When you post anything as a question, people are compelled to respond rather than ignore you.
Image-based posts
All social media platforms, including LinkedIn, have strong performance for visual material. There's a reason why the most active LinkedIn profiles always include images in their updates. For instance, infographics are a tried-and-true approach to increase engagement and shares since they allow viewers to quickly consume your material.
Add on Some Hashtags
On LinkedIn, hashtags help you identify your target market and make your content more discoverable. LinkedIn recommends using no more than three hashtags per post. LinkedIn advises using specialized hashtags (#businesswriting) rather than generic ones (#business).
Awards and accomplishments
Flexing your influence and showcasing your success is key to growing your LinkedIn audience. Posts that focus on accomplishments are "Like" magnets since other users will praise you for a job well done.
Video content
It's no secret that LinkedIn enjoys watching videos. In fact, the company introduced its own native video format in 2017. Because of this, marketers should strive to post to LinkedIn's platform rather than just sharing a YouTube link. Keep in mind that LinkedIn video marketing doesn't need to be a high-end production. LinkedIn continues to add new capabilities; one of them is LinkedIn Live, which has a format comparable to Facebook Live.
Conclusion
LinkedIn is a fantastic platform for content sharing. About 1% of the site's more than 500 million members regularly publish. You will ultimately be in the top 1% if you simply start posing once a week. Try a variety of content, including text, video, and more, to determine what works for you.
Are you ready to take your business to the next level? Our digital marketing services can help you reach new customers, increase your online presence, and grow your revenue. Contact us today to learn how we can help you succeed in the digital world.