5 Reasons Why IoT is the Future of Mobile App Development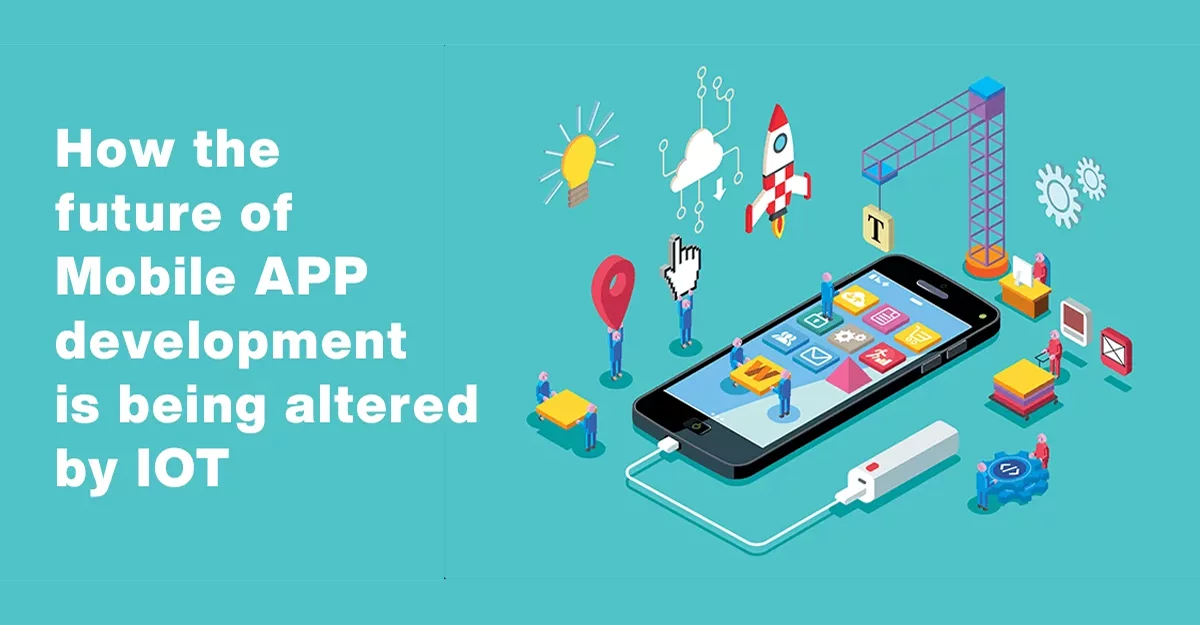 The Internet of Things also referred to as IoT, is one of the most popular inventions in the tech industry. IoT has become a huge part of modern life in 2020. Data obtained via a network of high-end sensors is used to power the technology. This information is gathered from both computers and people. IoT is described as a network of interconnected devices that share data to improve the efficiency of their functions and provide intuitive service to customers. In a conclusion, using the services of a mobile app development company has become the standard for companies today in order to ensure that their mobile apps are fully leveraging the potential of IoT.
It has had a great effect on the mobile app development industry, as data sharing between devices ensures a consistent user experience. The increased exposure gained from data sharing has resulted in a dramatic improvement in the quality of mobile apps in this period.
Because of the emergence of various new technologies, the mobile app development industry is experiencing creative and critical changes at a rapid pace. One of these technologies is IoT (Internet of Things). In recent years, the Internet of Things (IoT) has arrived. People in industries such as healthcare, retail, agriculture, and others are now benefiting from IoT solutions.
At any stage, the Internet of Things will help with connectivity and interaction. The growing demand for such applications and their ease of use are two of the main reasons why IoT app development services are becoming more popular.
According to the figures, there will be approximately 25.44 billion IoT-linked devices in 2030. Let's look at how IoT has evolved into the future of mobile app growth.
Development
Given the increase in the use of smartphones and smart devices, mobile app creation has become a requirement for businesses all over the world. Customers may use dedicated mobile devices to access a variety of services, including customized services. As a result, companies are prioritizing generating consumer curiosity by providing immersive and intuitive mobile applications. Here have been listed five ways that the Internet of Things is paving the way for potential smartphone applications.
Improved Hybrid App Development Prospects:
IoT has made it easier for software developers to incorporate various advanced coding techniques. This has aided in the growth of some of the world's best smartphone applications, such as Uber, Facebook, Instagram, among others. One of the many benefits of IoT for mobile apps has been the ability to provide users with great access to a wide variety of services in one go. This has also made it possible for companies to obtain customer data from a variety of channels and devices with minimal effort.
Hybrid app growth is the future of mobile app development, and IoT is one of the hybrid apps' most valuable properties. As a result, IoT is poised to become a big player in the mobile app industry in the future.
Open Source Development Is Changing the Game
:
Because of the growth of IoT technology in the mobile app development industry, many IT businesses and app creators have decided to share their own applications and programs freely. This has made it easier for nascent developers to borrow and create their own exclusive apps.
Open-source mobile app production has already gained a lot of traction in the industry, and it's only going to get more known and famous in the near future. It assists the growth of mobile apps across different platforms and encourages the integration of more smart technology with mobile apps to fully leverage the IoT's potential.
Another benefit of open-source mobile app creation is the openness it provides throughout the development process. This has made it possible for developers and companies to work together to create high-quality mobile apps.
New Platforms for Niche Mobile App Development
:
App developers are working hard to adapt to the changes brought on by IoT in the industry. Since IoT is a relatively new technology in the mobile app development industry, new benefits are discovered on a regular basis. Since there are few platforms available for IoT compliant apps, one of the benefits of IoT is that it allows software developers to build their own platforms.
It is expected that software developers who prefer to build cross-platform apps will shift their attention to niche platforms in order to provide users with something different. Furthermore, there is obviously more to benefit from creating new platforms because they provide developers with a plethora of tools and enable them to build something special that can yield lucrative returns.
The Rise of Small Businesses Having a Voice in Their Industry
:
The prices of IoT application development services are falling at a faster pace than expected. Small companies will now have an impact on the internet as a result of this. Small companies now have much more influence on large networks than they did previously.
IoT brings it together into one framework, making it easier for mobile apps to process, evaluate, and deliver a variety of complex services. Small businesses can use this component to build high-end mobile applications at a lower cost, allowing them to become more competitive in their fields.
Emerging Innovative Businesses
:
The Internet of Things has had a significant effect on business innovation. For example, an application like Uber uses IoT to collect data from app users and connected devices (cars), enabling customers to get a cab in a matter of seconds.
IoT has aided the rise of more creative companies, and mobile applications are the perfect way to take advantage of IoT's benefits for businesses. Businesses are concentrating on addressing and resolving the consumer segment's pressing problems and designing IoT-based applications to provide easy solutions. This is made possible by the vast quantities of data generated by different organizations, which has provided businesses with far more in-depth insights for creating tailored mobile applications.
Conclusion
As a result, it has been decided that the Internet of Things is suited for bringing significant changes to the traditional mobile app development process. Taking advantage of IoT, mobile enterprise applications can improve the efficiency and effectiveness of a time-consuming business process.
Furthermore, you can access the entire IoT network from your office room. If app development companies will get it right, the future of mobile app development will undoubtedly bring better solutions.
Tags: