Tools You Need to Start a Small Business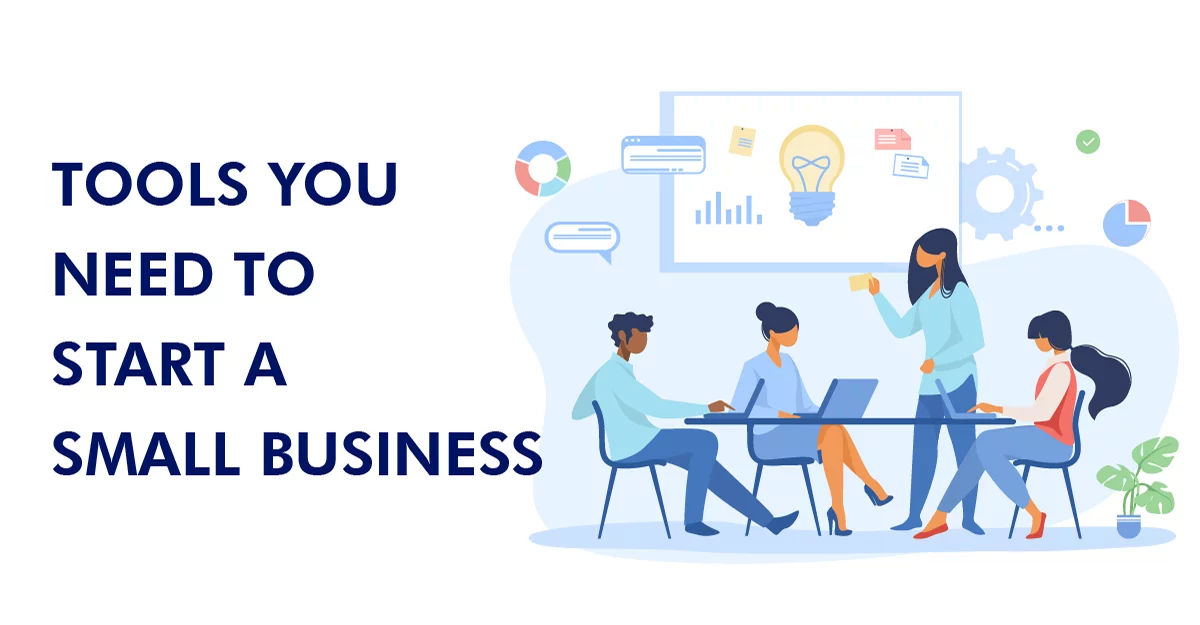 It is not really an easy task to run a small company. You have to juggle a lot of stuff at once, and sometimes even burning the candle at both ends isn't enough. But that's where technology comes in to help you out. Small business owners can simplify their jobs and achieve better results without burning a hole in their pocket, thanks to the vast applications of technology.
Small business owners' best friends have rapidly become technology. Technology has helped a lot to level up the playing field, allowing small companies to compete with the big boys, whether it's accounting software or business plan software. Businesses of all sizes are now having access to the same technology that aids efficiency and sales growth.
We at Nodesol have experience with these technologies and have worked with a number of companies to help them improve their performance by providing tailored technical solutions.
Here are some of the technological tools you'll need to get your company off the ground.
Online business plan services
The secret to starting any successful company is to have a well-thought-out strategy in place. Online business plan services are one tool that many entrepreneurs use for support. The services provide a variety of resources and models to help turn a good idea into a profitable business. Financial calculators and map generators are among the resources available to help crunch numbers and quantify the company's vision. They also provide success graphs and target achievement monitors, which enable company owners to keep track of their progress and make appropriate improvements as problems occur.
Web hosting
In today's online world, few companies can survive without having an online presence. A Web hosting service is needed to get a website up and running. The files that make up a website are stored on a data server, which then uploads them to the Internet. This offers an Internet connection as well as a way for customers to access the web using a custom domain name. Website builders, one-click installation of approved applications, email functionality, and an infinite number of email addresses that include the site's domain name are among the features offered by the services.
Shopping cart software
For companies who want to market their goods and services over the Internet, having a website is just half of the equation. A website must have shopping cart software in order to accept payments via it. Credit card processing and scan, PayPal, and other payment methods are all supported by the app. The app also provides customers the ability to calculate shipping and tax costs. The software allows companies to keep track of inventory and generate reports automatically and enable consumers to buy products online.
Anti-virus software
Since virtually every company requires a network link, it is important that owners safeguard it. Anti-virus software is one of the first lines of security. It protects computers and networks from viruses, spyware, Trojans, worms, and other malicious software. Without this defense, business owners risk having an infected device, which may result in data theft, network outages, and lost productivity.
Cloud Computing
Cloud computing has changed the face of technology, and its ramifications have reshaped a number of industries. Organizations have become more scalable and agile as a result of their adoption of cloud computing. In reality, cloud computing has become a key factor for many businesses.
What's even better? Cloud computing does not consume a large portion of your budget. At Flatworld Solutions, we provide cost-effective cloud computing services so you can improve your productivity without breaking the bank.
Payment Methods of the Future
For many customers, online payment is still a major turnoff. Despite significant technological advances and a variety of algorithms, we have yet to develop a completely encrypted, safe, and fast money transaction mechanism on the internet. Companies need to establish payment methods that are both creative and secure in order to alleviate the fear of being defrauded by consumers. If you believe that designing and implementing such payment methods will break your budget, you can contact one of our Flatworld solutions teams.
We've provided small businesses with a number of creative and next-generation payment solutions that increase the security and convenience of the online payment process. What's the bottom line? Customers begin to trust you and purchase from you more frequently.
Mobile Applications
Mobile apps are a difficult terrain to navigate. Since this is the era of mobiles, and m-commerce has become popular, almost everybody these days is jumping on the bandwagon and launching their own smartphone application. However, there is a catch. People can download a large number of apps, but they only use 7 to 8 of them on a daily basis. As a result, it is important to use mobile apps wisely. You should have it because it has become the rule, but you don't have to go overboard.
If you're unsure about your business's best mobile app strategy, get in touch with us right away. We will assess the situation objectively and have concrete ideas, just as we have for many other small businesses.
Data Security
When it comes to financial security, it's also important to consider data security. Any business, large or small, cannot afford to ignore data protection because it can jeopardize its customer base and put it in legal jeopardy.
You can build your own invincible fortress in the online world by adopting easy but successful technological features. Flatworld's engineering teams are experts at designing and implementing the best data protection systems to keep the company and online activities safe and secure.
Credit card processing
Cash is no longer considered a king in today's world. Shoppers have replaced it with debit and credit cards, which they plan to use everywhere. Businesses can accept all types of payment, including major credit cards, debit cards, electronic checks, and conventional checks, anywhere and at any time with credit card processing services. The services also use encryption technology to secure each shopper's personal details and provide security for the company against credit card fraud.
POS (Point of Sale) system
Supermarkets and restaurants no longer use orthodox cash registers. For their checkout needs, businesses now rely on point-of-sale systems. Terminals, displays, barcode scanners, cash drawers, card readers, keyboards, receipt printers, and retail applications are all included in POS systems for retail businesses. Touch-screen displays, terminals, receipt printers, cash drawers, card readers, and restaurant applications are popular components of POS systems for restaurants. Some POS programs provide dedicated facilities for other categories of enterprises, such as salons and grocery stores, in addition to retail outlets and restaurants. POS systems can monitor revenue and inventory, as well as simplify the accounting process, in addition to accepting payments.
It is important for company owners to increase productivity in the workplace in order to thrive. Time monitoring and management software keeps track of what's being done so that company owners can better control their workers' time and productivity. Work hours, leisure time, sick leave, overtime, and tasks are all tracked and recorded by the program. Furthermore, the program can keep track of individual tasks, costs, invoices, and clients.
Chatbots
The age of chatbots has arrived! Chatbots are more powerful than humans; they can better deal with customers due to their vast intellect, and they are also less expensive! Customers of this generation are searching for opportunities to communicate. They want their questions answered, for you to recommend goods and services to them, and for you to connect with them outside the sales process.
All of this can be accomplished by using chatbots. Are you curious as to how? Nodesol will show you how successful chatbots are and assist you in developing the best chatbots for your company.
Implementation and Enhancement Tools for Websites
Maintaining an online presence is challenging for small businesses. If you're having similar problems, don't be concerned. There are many free resources and options available that allow you to access the best of the online world while also allowing you to keep up with the rest.
Website deployment and optimization tools are becoming more and more common every day, so it's critical that you take advantage of their potential.
Employees are the most valuable resource. Everyone knows this clichéd phrase, and everyone focuses on this part, but how about integrating the most cutting-edge technology to ensure that human resource management is top-of-the-line? This, of course, increases employee productivity and makes them more efficient. HR programs can take care of functions such as attendance and workforce growth programs with ease.
We provide a variety of services at Nodesol that make HR administrative functions run smoothly.
Drones
Drones may have seemed like a far-fetched dream a few years ago, but they have now become a commonplace application for many people. Drones can be extremely beneficial to small businesses. If you can work your way out, drones can cut your distribution costs in half and boost your customer scope to new heights.
However, since the use of drones is still fraught with issues, including legal issues, small businesses should proceed with caution. But keep an eye on it because it's progressing at an alarming pace.
Customer Relationship Management (CRM)
Customer service consumes a significant amount of your time and money. As a result, you must constantly seek out new and effective ways to deal with customers so that you can devote your attention to other tasks. Nodesol has extensive experience managing unique customer-handling criteria for companies and has provided specific, tangible, and cost-effective solutions.
You will learn more about our customer relationship management programs and how they vary from others from one of our team members.
Emails
It may appear that emails have become obsolete, but this is not the case. Indeed, they remain one of the most cost-effective and result-oriented resources available to small businesses. Email can be a powerful weapon in your arsenal if you know how to use it properly. Emails allow you to reach a larger audience while still delivering a powerful message. We have a variety of personalized email marketing campaigns designed especially for small businesses. Get in touch with us right away to learn more about this cost-effective and results-driven technical service.
Online data storage
While business owners rely on computers more than ever, it's critical to ensure that the data they store is safe. Software users may use online storage facilities to preserve their files in the event that something goes wrong with their computers, such as accidental deletions, hard drive failures, or theft. Online data storage providers offer business owners the advantage of being able to access their files from anywhere with an Internet connection since the data is stored online in the cloud. Big files can also be stored on online storage facilities to free up space on a computer's hard drive.
Webinar services
Many companies work with clients from all over the country and the world, so it's important that everyone in - location stays linked. Webinar services, which enable companies to hold presentations over the Internet, are one way to do so. The services give companies the tools they need to give clients online sales presentations, web workshops, and product demos, no matter where they are in the world. Furthermore, businesses can use the platforms to hold training sessions and by businesses with different locations to keep all of their employees connected.
Online project management software
With so much to do, many business owners need some assistance in keeping on track. From start to finish, online project management software allows you to coordinate and execute complex tasks easily. Project managers may use the program to organize and distribute resources such as team members, external resources, generic resources, documentation, and physical properties. It also includes communication tools for teams as well as ways for clients to access reports and status updates. The services improve overall performance by centralizing requests, resource availability, problem monitoring, communication, document management, and scheduling.
With Nodesol, you can reap the benefits of cutting-edge technology for your business.
Nodesol has been a leader in delivering world-class software development services to its clients all over the world. When it comes to technology, the possibilities for your company are endless. All you have to do is use the right forum and plan. And when it comes to small business technology, Nodesol is your best bet because we have a wealth of expertise and a team of experts on staff! Our apps and mobile app developers are some of the most talented and experienced in the industry, and they can build some of the most eye-catching and creative software for your business.