3 UX Processes Every UX Designer Should Know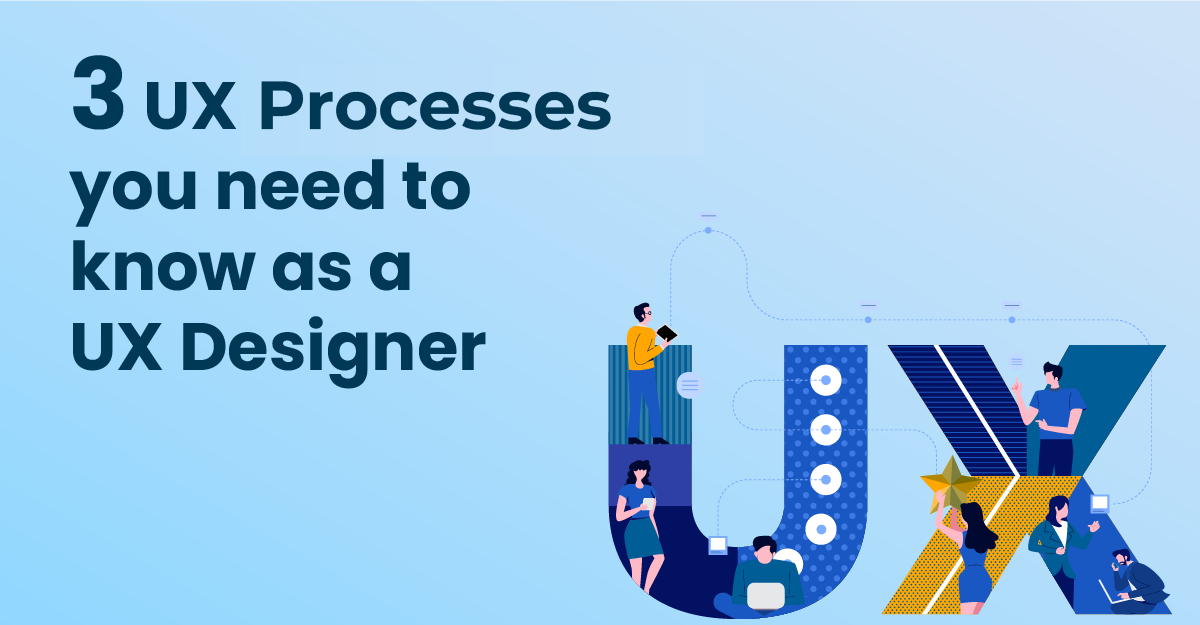 Design processes are a collection of tools and concepts that help designers collaborate to solve a specific problem and create a product. It also lowers costs and improves overall performance and process efficiency. Design frameworks help with onboarding new hires or handing over responsibilities. By following a familiar, structured process, new team members know where they are in the design process and how to carry the project to completion.
Let's look at three processes that can help us organize our thoughts around understanding users and designing exceptional experiences for them. These are three well-known frameworks used in UX Design:
Design Thinking
User-Centered Design
The five elements of UX design
1. Design Thinking
Design Thinking is a set of methods and processes used to provide knowledge and solutions to ambiguous design problems by gathering and analyzing information.
It is divided into five stages:
Empathize
Define
Create an idea
Prototype
Evaluation
Stage 1: Empathize
Understanding a user's problem through research and empathy is user-centric at this stage, as is understanding user needs.
Stage 2: Define
At this stage, the previous stage's research on the user's problem is analyzed, and the main problem is extracted and defined.
Stage 3: Create an idea
At this stage, ideas, brainstorming, and solutions to the defined problem are presented.
Stage 4: Prototype
At this stage, a specific solution for each problem is defined and assembled with an optimal solution, and an interactive initial version of the product is released for testing.
Stage 5: Evaluation
At this stage, the final solutions and product features are tested, and it is discovered that something was missing in the previous stages that can be returned to and designed a better solution.
2. User-Centered Design
The user-centered design process focuses on users and their needs, and it is an iterative process that consists of four stages:
Stage 1: Discover how the user interacts with the product or similar products.
Through research and evaluation, you must determine how the user will integrate into your design, as well as his basic needs and problems.
Stage 2: Determine the user's requirements.
You will determine the actual problem that the user is experiencing through the research process here.
Stage 3: Create solutions to the user problems.
Create appropriate solutions to user problems and begin designing a product that addresses this need.
Stage 4: Compare your solutions to the needs of the users.
Here, you will determine whether the design solves the user's problems and test it on real people to measure and evaluate its effectiveness.
3. The five elements of UX design
It is a five-step and five-layer process that a user experience designer uses to turn an idea into a product.
Layer 1: Strategy
It is the bottom and basic layer of the design, where the goal of this design will be determined, as the goal will achieve the user's need and business vision.
Layer 2: Scope
Here you will determine and discover the type of product that you will design and the characteristics and features of this product.
Layer 3: Structure
It is the middle layer and here you will arrange the features and structure of the product and set how users will interact with the product.
Layer 4: Skeleton
Here you will set the product layout, Skeleton and you will know how this product is used by users but it is not actually a final product.
Layer 5: Surface
It is considered the top layer and here you will set the shape of the final interfaces that the user will see and interact with.
Conclusion
The three frameworks presented in this article represent different approaches to understanding the problems that arise in user experience design and provide pre-defined approaches for starting to solve them. To deliver successful projects, many organizations and startups use one or more UX design frameworks. UXPin, the world's most advanced code-based design and prototyping tool, can help you solve design challenges throughout the product development process. Design frameworks can aid in project delivery or achieve outcomes for a specific feature. Our design teams at Nodesol use these frameworks to guide decision-making and solve problems. Our expert UI designers work to convert low-fidelity screens created by UX into final design interfaces. We work closely with our clients to define, design, and develop transformative user experiences across all platforms. Feel free to contact us if you have any queries regarding your projects.