8 Web Design Elements that Businesses Need to Consider in 2023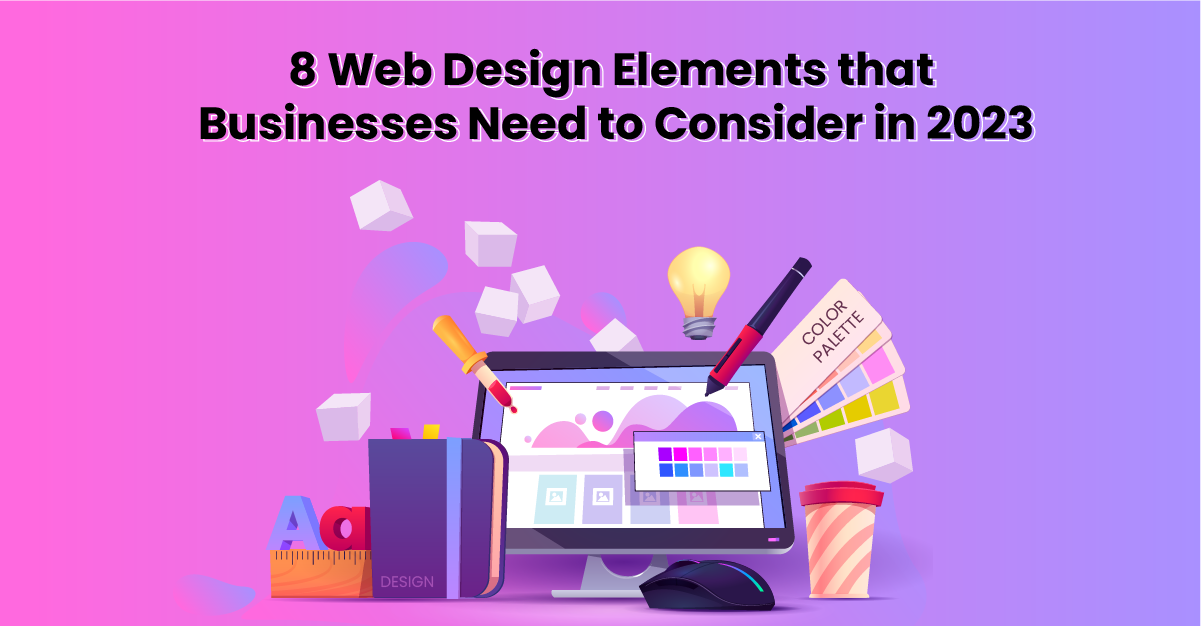 Designing a website with state–of–the–art technology is essential for businesses. They need to go back to the drawing board and develop strategies to get their websites up-to-date again. There are some evergreen web design elements that could help established brands and even new start-ups take their web design development to the next level. Let's dive into top web design elements that businesses need to consider in 2023.
Smart Loading of Content
Every website that exists in 2023 should follow the well-known criteria that content should load quickly. Yet you might be surprised to learn that adding good material might enhance the allure of your website. The website may take a while to load because of third-party integrations and graphical components. However, one may get around this by using the Smart content loading option. The majority of visitors do not scroll all the way to the bottom of the page, so why not load the content when they start scrolling down rather than earlier? Plugins may be useful.
Text
Imagine a website that is entirely composed of words. How awesome would that be? Although images, graphics, and colors are important, textual information still reigns supreme—but only if you know how to utilize it. Doing new things with your website may or may not be advantageous. Yet attempting everything at once is also incorrect. The header of the website is the most important part and should be done properly. So, if a business decides to use only text on the website, it should be suitable, eye-catching, and appealing.
Creative Cursor
The day when cursors were round or line is gone. Make the cursor attractive to encourage visitors to stay on the page longer. Young or old, they will both find the inventive cursor entertaining and stay on the page for two minutes longer than they expected. This 2023 web design trend is simple and appealing. Although it is not among the most important modifications that have a major impact, it does have some impact.
Browsing Based Content
As a person browses, the content from one browser might occasionally be different from the other. After an hour, the material occasionally changes. According to your location and browser history, these changes take place. Google is the finest example of it. Google's material is updated wherever and anytime new stuff is added, which happens almost instantly. If you run an e-commerce website, you must have this functionality. In addition to drawing users to your website, making content recommendations based on their searches will turn them into devoted customers.
Interactive Pages
The easiest approach to find out what people want from you is through page interaction. You may learn how to make it simpler for customers to stay on your website for the appropriate time by setting up a contest, giveaway, opinion poll, or quiz. If you own a business selling home decor, you may demonstrate how different-sized rooms would appear if customers purchased all of the furnishings from you. The clothing retailer will be curious to know how that specific item of clothing will seem on all body types.
Thumb Friendly Navigation
There are many left-handed people in the world. The right-handed website's scrolling is challenging for them. As a result, companies have started designing their websites to be thumb-friendly. There are three categories available on the website's mobile version: right-handed, left-handed, and neutral. By placing the symbols out of the user's grasp, you run the risk of hastening their exit from the website. Making a website accessible on mobile devices will be necessary in 2023.
Illustrations
Never undervalue the influence of sketchers, scribblers, and illustrators. They are in high demand for publications like newspapers, social media postings, websites, ads, and so on. These days, brands are spending money on talent rather than on conventional advertising and marketing strategies. They are thinking outside the box, so what better way to make it appealing than with something that can appeal to everyone and doesn't appear robotic? Illustrations and doodles are putting illustrations and stock images on the back foot.
Data Showcasing
It takes effort to provide the data to your customers, but if done properly, the discomfort is worthwhile. People love statistics therefore, it will be to their benefit. Nothing is better if you can teach them how to use the backend of your website to your advantage. Data displaying will increase their interest in your company and show them how sincerely you treat your clients and care for your business.
Final words
Think about custom illustrations, moving cursors, and combining images with graphical components as you consider web design trends for 2023. Your website will stay current in 2023 thanks to all of these factors and more. By doing all of these things and more, your website will remain fresh in 2023. Updating your website's design can positively impact your brand and revenue.
Don't let your website fall behind the competition. Choose Nodesol Corp for all your web development needs and take your online presence to the next level. Contact us today to discuss your web development requirements and receive a personalized quote.